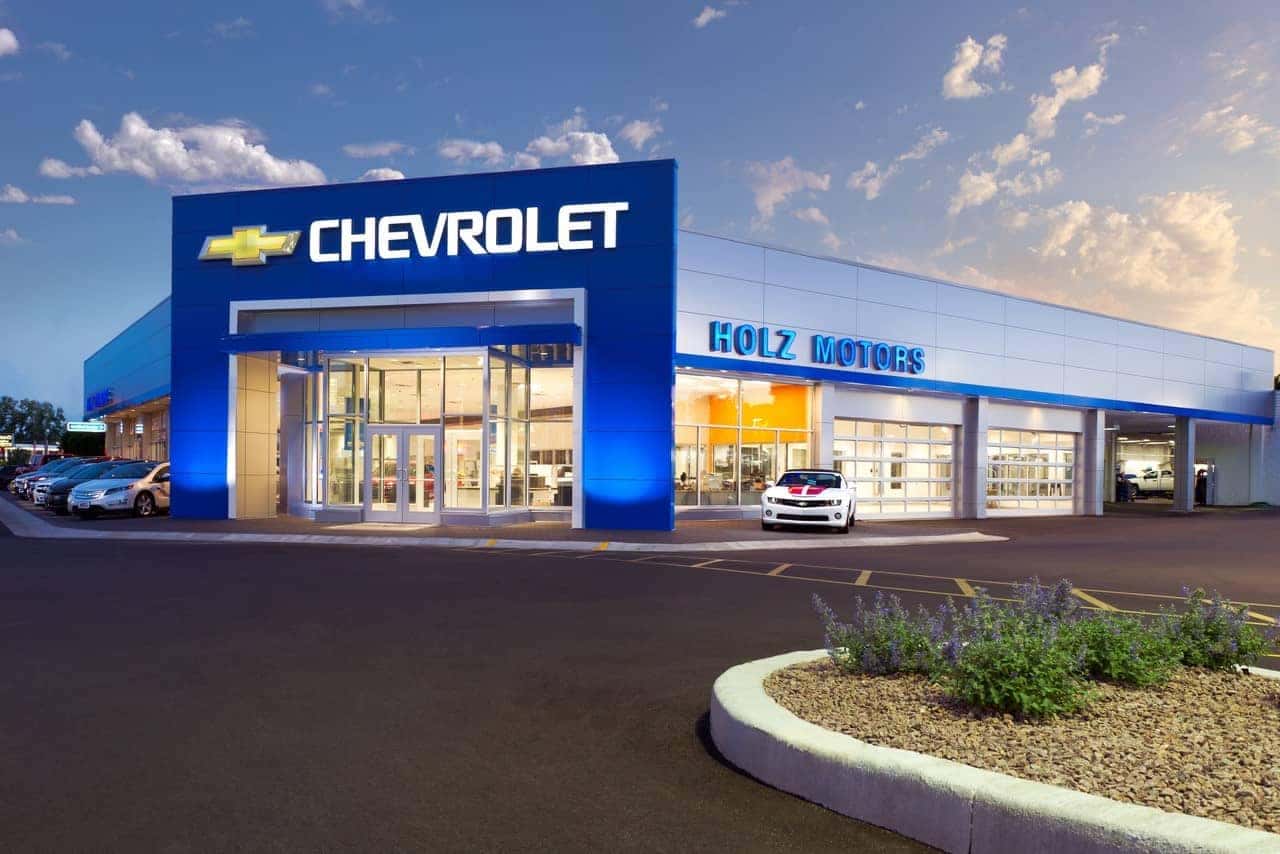 Welcome to Holz Motors, Inc.
Welcome to Holz Motors, Inc. in WI. Whether you're visiting us from Greendale, Greenfield, Waukesha or anywhere else in the Greater Milwaukee area, know that we'll treat you like family. Our dealership is conveniently located at 5961 South 108th Place in Hales Corners, WI, which is easy to reach for friends visiting us from all over. Make the trip today!
Ask A Question
Our Reviews
I was very happy with the service and explanations about the financing and usage of all the gadgets on the new vehicle. Everyone was helpful and courteous.
I stopped in for my vehicles 45,000 mile service, without an appointment, and the dealer had me back on the road in any two hours. I enjoyed my time in the waiting room while the work on my car was completed.
Very polite and always inquires if there are any concerns regarding my vehicle. Salesmen are very helpful. Overall a very nice team at Holz Motors
Deven is an amazing employee. He answered all of my questions. He made this the easiest transaction ever. Deven is a great asset to Holz.
We have worked with Don on numerous occasions and he delivers every. single. time! Wonderful experience!
Dan N was great to work with. He informed me of all possibilities at the beginning, then updated me as work continued. I am very happy with this experience and Holz Motors.
They are never a disappointment. Friendly & fast service with a car wash!! I definitely recommend Holz!!
Had great experience Joseph Crespo was great and I would recommend him to anyone! Thank You for everything! I am very happy with my new truck!Loving it! Thanks again!👍
Great service dept. didn't feel pressured at all, I didn't have an appointment and they fit me in
Excellent service department. Got me in and out very quickly. Scott was great to work with.
Great Service done timely. high mileage needed work that was identified and done for me
Recently purchased a new '22 Trailblazer for my wife, and she truly loves it! What made it even sweeter, was working with sales rep Mark Borkenhagen! Unfortunately, I've become used to sub-par service in today's world of non-caring, unknowledgeable salespeople...but Mark was a refreshing opposite! He puts himself right in the buyer's shoes as if he was purchasing the vehicle himself! Mark's goal wasn't to make the sale, it was to make sure we were comfortable and informed every step of the way...and ultimately, we were! He leaves no stone unturned, and is a true credit to his profession. I would highly recommend him to anyone looking for an automobile. If there were 10 stars to give him in this review, I would do it! Naomi Rueda in finance was also top notch! Thank you again Mark!
Everything went great. 1st time buying from Holtz and I will definitely be back. Very laid back and not pushy, which is very important to me. Don was my salesman, very helpful, finance team was very quick. Also got a very fair price for my trade in.
I had a wonderful experience buying my 2019 Chevrolet Equinox from Holz Chevrolet. Zach Haack was the Sales Professional helping me decide on a car. Zach was great to work with. He was very patient (no pressure) and listened to what I said I was looking for. I test drove a couple cars, and decided that the Equinox was perfect for me. Colin Cronin in Finance worked hard to get the best rate for my loan. I am so happy with my new Equinox and would definitely come back and buy a car from Holz again.
I have bought every brand new vehicle I've owned from Holz. Always great service. Helpful on point salesman and manager.
Great experience! Even during these difficult times I was able to drop off the vehicle and was fixed by the end of the day. every deal i called was booking appts 2-4 weeks out! there doing something right!!!
The service experience at Holz was amazing. The staff is great and they are all so friendly every time I get my car serviced. Always like working with all the service writers, they all were great. Last time with Eddie V. was super! Holz has been servicing my families cars for years and I look forward to Holz continuing to service my Chevrolet for years to come.
I have been coming to Holz for over 20 years. They always treat me and my family well and make sure our vehicles are taken care of. We love their service! Thank you Holz!
We went to see about a truck and we talked to Jay Conway and he hooked us up with a truck we thought we liked. After three weeks, we were not satisfied. We went back after sending an email stating why it wasn't a fit. He called us very concerned and wanted to make it right for us. so we went back right away that morning and we looked at what they had in inventory. I still wanted to buy a truck from them because they wanted to make sure we were satisfied. So we test drove a few other trucks while John Murphy and staff looked at our previous truck. We asked for them to give us the best deal they could. Jay stayed with us for three hours and he could have been talking to other customers. We were very impressed with what they did for us. We ended up with anew Chevy Silverado Custom Trade Boss. John and Jay told us they were going to make it right and we were very happy with the outcome. They made it so we want to come back when we are in need of another vehicle. We greatly appreciate what they did for us.
This dealership is 957 miles away from me. If this dealership were 2000 miles away i would still make this trip. I wish all dealerships in America were like HOLZ MOTORS. A TRUE Customer satisfaction. My experience was not only buying another car, I met great people that's worth meeting to do business with. No pressure, No sales pitch, No making up hidden fees. HOLZ MOTORS worked with me like no other DEALERSHIP would have ever worked with me. I left this dealership with my car and very Satisfied. They even put a full tank of gas for me. All my questions to my deal I've asked, were answered. Was i crazy too go drive 957 miles away to buy a car? Nope! People like Mark & Ryan are hard to find meaning good business people. I want to thank the Holz Motors Family again for this Business Transaction. 1000% Satisfied. From all my experience buying cars Holz Motors is the best one hands down. #SALUTE to the Family of Holz Motors Thank you Mark Thank you Ryan most of all Thank you to the kind person who Transfer me over to mark. I forgot her name very sorry Thanks to you to..
I bought my first brand new truck in a long time. I was hesitant to go to a dealer because of the nonsense a lot of dealers pull Not Holz! these guys and gals were straight up. I gave them a 4 on the car buying process only because I did not get everything my way... lol It has been about 7-8 months since buying my truck and they called to remind me service might be due . sure enough the oil needed to be changed. I get to the dealership and everything went smooth as silk and there was no nonsense about suggestion I do this or that. They were not trying to empty my pockets , instead they were providing exceptional customer service and made it a point to make me happy and then I got a car wash to top it off. I do not write a whole lot of reviews but in such a competitive market where you its a crap shoot I want to assure potential buyers that Holz is the place to buy your truck. I'm probably one of the hardest customers when it comes to spending $ and getting what I want the way and the way I want it. "if that makes sense " I do not think you can go wrong dealing with these people they are very very good honest and customer oriented that's all anybody wants right?
I worked with Lisa xxxxxxxx Corners then buying my first new Chevy truck. It took two months for me to make up my mind on the model I wanted and she was easy going the whole way. I've been in sales for a long time and it was nice to finally go through the process and not feel pressured into making a large decision. I would definitely come back when it comes time to buy another.
My husband and I come from the NW suburbs of Chicago to buy our cars here at Holz from our favorite person and salesman Jay Conway! To know him is to love him!! He makes things so easy by picking out several cars/trucks before we arrive to try! His supporting staff is also wonderful to work with and you can tell they work well together and care about each other!! This is by far the easiest and fairest place to purchase a new or used vehicle! Thank you so much Jay!!
The service we received was awesome! This is the 3rd car we have purchased and each time we have been very pleased. We will be back!
The service department write up area is clean and orderly. The service writer was friendly and helpful. I will return to Holz motors service department again.
Get Directions To Our Dealership